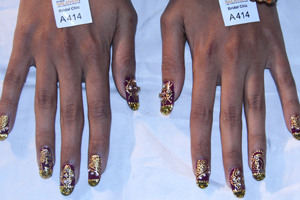 Bridal Chic
Rules:
Nails must be approximately 1cm long from the free edge
All nail art must be made from professional nail products
Embellishments, feathers, decals, gems, accessories, ornaments or any form of decorations are allowed.
Competitors may not use any copyrighted art, designs or logos.
Henna or similar products on hands or fingers are strictly prohibited.
Model
Models must be dressed in bridal costume as benefitting a modern Indian bride. Colour theme of 'Wines & Purples' must be followed.
Model's costume should not extend beyond the elbow.

Besides Bangles, no other hand decorations are allowed.

Models must be able to walk in costume without assistance.
Only the model and contestant are allowed on the competition floor. The costuming, make-up and hair must be assembled before the competition.
Finishing
Water and soap may be used in finishing.
No cleaning whatsoever should take place after the competition is over.
Pre-existing damage to the model's nails or hands will not be considered
Products like cream, oils and lotions may be used but excessive oil will lead to point deductions.