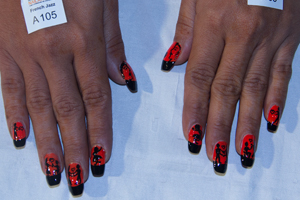 French Jazz
Rules
This competition is done on natural nails or on previously done extensions.
Contestant can use only two visible colours to complete the nail art.
Model's nails from tip to free edge must be half the size of the nail bed i.e. 2:1 ratio.
The model's hands must be prepped before the competition.
The nail art must resemble a French manicure but yet be different and creative.
Contestants must use only two visible colours to make the art.

If a third colour is seen on the nail, the contestant will be disqualified on the spot.

Clear base coat and top coat can be used.
Designs plagiarised from the internet or from other competitions will disqualified.
Water and soap may be used in finishing.
Products like cream, oils and lotions may be used in moderation.
No consideration will be given for any pre-existing damage to a model's natural nails, cuticles, or hands.